This past weekend, I went to the
World Peace Jubilee
in Cincinnati. Loveland to be exact. My wife is active in the local yoga community, and has been involved with the group that puts this on. She went through yoga training, and is a certified pre-natal yoga instructor. She has been trying to get me to attend the teacher training for quite some time now. My biggest argument was that I didn't think I could sit long enough to get through the weekends required. It was the best argument I could come up with at the time. I just could not see myself going through that. Me who has probably only attended a handful of yoga classes in my life to begin with.
I attended 2 days of this festival. One and a half to be exact. I made it in time for lunch on Friday. This was a good start. Being a vegan, and entering a dining room where everything on the buffet was vegan, was a delight to my eyes. At my fathers request (I am trying to put a few pounds back on), I proceeded to make a fool out of myself and eat like I had not had a meal in days. We sat in the cafeteria for a while, and friends of my wife came up and talked to us, and the vibe in the place was very positive. It was starting to be a decent day.
From there my wife convinced me to go and see a screening of
The Peaceable Kingdom
. The filmmakers and one of subjects of the movie was there. I admit, I have never seen any environmental film. Not one. I have avoided any and all imagery that offended me. I knew what went on in slaughter houses, and I have seen enough stories on the news when a case of abuse comes up, but I was not going to watch it. I'm the one who cries when I hear the Sarah Mclachlan song with the SPCA commercial. So I was not at first going to go. I was going to go read my book while she attended, but I decided to go anyway.
I wont get into too many details, but it was a very powerful film, and it was gut wrenching to see the images of abuse, and to know and understand the realities of what is going on in the industry, and what is considered standard and customary practices. If I was not a vegan already, I would have become one on the spot. This movie had an impact on me, and although I readily admit, I still looked away during some of the more graphic images, It set the tone for me for the rest of the day, and remainder of my time here.
Freshly wrecked from watching this movie, and sitting in the circle and listening to the discussion, we made our way to my first real yoga class in many months. I think this was called a "vinyasa" class, whatever that means. It basically meant I was the only guys who could not touch his toes let alone palm the ground. I managed to adjust accordingly, and was helped numerous times by the helpers in the class. I made the mistake of trying to follow the lady in front of me, but I found out she had her own studio, and was highly advanced. After her first handstand, I decided I should look for another person to copy. This was really a good class after watching the movie.
From there we went to dinner, which I was still a little full from lunch, but again, with so many culinary options, I felt this was something that I could not pass up, and I was looking forward to going and trying everything they had. it was not going to disappoint. I should write a blog just about the food, but i'll move on.
After dinner, I listened to a presentation by Nathan Runkle of
Mercy For Animals
. This was a great presentation, and he talked about his life and how he became an activist. It was an eye opening experience for me, as I had never really heard any of this information before first hand. Again, I have made it a point to avoid hearing anything bad or graphic. Remember I became a vegan first without knowing why. I am probably one of the few people there that went that route first, only to try and figure out why second.
By the end of my first day, we found ourselves in the freedom tent enjoying some live music. It was all entertaining, and then just before we left, I became mesmerized by a band and a voice that I knew was going to be something I listened to and would follow for a very long time. This band was name
HuDost
, and the singer Moksha had the most amazing voice I had heard in a long time. What an end to amazing day.
The next day started much earlier than I would have wanted otherwise on a Saturday, but I was not going to miss breakfast. Not after the last two meals I had. We were up and on the road before the kids awoke (Its cool, grandma and grandpa where there). We managed to get there in plenty of time, and I enjoyed an amazing breakfast with a Tofu scramble quionoa and kale, potatoes, and an assortment of other items, green drinks that tasted like your summer lawn, and more flavors of tea than you knew existed. If the day ended here, i would be fulfilled.
After breakfast my wife and I chatted with a lady at our table for a while. it turned out that she was the one I had tried to follow in my yoga class. We chatted for a while, and the subject turned to my/our veganism, and she was interested in my transition, and I admit i was enjoying talking about it. I had not talked about really to someone that was genuinely interested. Most people I tell are just co workers and others who mostly tell me "I could never give up meat", or "cheese", or otherwise though I may have had a screw loose. For once in a long time, I got to talk about this to someone who really seemed interested in the story. That was a good start to the day. Plus I got to plug my
crabbyvegan
twitter, of which she is now following me. Its fun to make new friends.
From here we went to listen to
John Pierre
. Evidently, he is a friend of Ellen Degeneres, and has worked with a lot of other famous, and not so famous folks. He is a 30 yr vegan, and gave us a talk on boosting your brain performance. Lets just say I should have taken a notebook, but I did learn enough to know I need to get a vitamin B-12 supplement. He gave a us a fascinating talk on not just fitness and nutrition, but on love and compassion. I think that was the part that I really enjoyed hearing. And I have tried to adjust my way of thinking over the years. My family will tell you I am a much less stressed driver than I used to be. The more you hate me, the more I will love you in return. This is something that I have been telling my kids, my son most recently. I have told him that my hopes and dreams for him are that he becomes a loving, compassionate and kind person. What he chooses as a career is secondary. Be a good person.
From here we went to a Jivamukti yoga class. I had to Google this to get the spelling, since I didn't really know about this. Despite being married to a yoga instructor, I really don't ask her a lot about yoga. I probably will more though. So this was yoga with live music, and a spiritual message. This was in keeping with the theme of the weekend which was to respect all life, and enhance others lives any way we can.
This was a fun class. The music was outstanding, the mood in the room and the energy was intoxicating, and this was clearly one of the high points of the last few months where my mind has been an array of anxiety, despair, depression. I felt alive and free. It was such a great feeling to be surrounded by so much love and compassion. You could not help getting caught up in the moment. As much as my body wanted the physical activity to end, in my mind I wanted to stay in this class forever.
It seemed like this weekend had food around every corner, so it was no surprise that it was lunch time again, and we were off to another wonderful meal. This time there were some veggie burgers, a Mexican enchilada dish, amount so many other things. The food was nothing short of amazing, and for me, this is really been all veganism has meant to me. This is why this weekend really opened my eyes. For me veganism has meant what was for lunch or dinner, and this weekend has shown me that there are so many more fulfilling things out there besides a meal.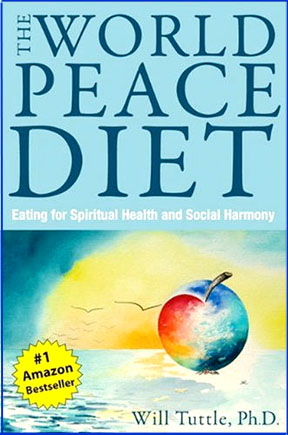 After lunch we heard a speech by
Kathy Stevens
and
Will Tuttle
. Kathy gave an amazing speech about her rescue, and although the general theme has been pretty consistent. It really does amaze me that people can be so devoted to their convictions, and can dedicate their lives to trying to promote and do so much good. I am in awe of these people that can put so much more before them, and not spend their lives thinking about how they personally can get ahead. Its a nice change to the world I live in where its all about schedules and deadlines for so many things that have such little meaning in life.
Will Tuttle is of course the author of the book (which I have not read) that is the basis for the my wife's group, and the focal point for this festival. Will is a fascinating person to listen to, and talks much about the physical as well as metaphysical aspects of consuming dead animals. Being a scientist of sorts, I have to somewhat think hard about the metaphysical intake in consuming a dead animal. But I am intrigued and fascinated, and can also understand that I am not interested in ingesting all of the fear and pain that these poor creatures have suffered. I am interested in learning more. And I am convinced even more that I will not change from a vegan lifestyle. I want to make myself a better vegan now.
That afternoon we did something called a "Kirtan". I had to Google this as well to make sure that I spelled this right. I thought we were just going to listen to some music, but we in fact were quite an active part in it. I wont try to define it, as others may take exception to my rudimentary yogic knowledge, but in simple terms, we partook in a set of chants to music. It was a no brainer, as this was being done by "HuDost", whom I fell in love with the night before. For the next hour and a half we sang chants with HuDost to a point where I nearly thought I would lose my voice. Moksha's voice is so amazing that the experience was nothing short of hypnotic. I wish I could remember what the chants were. They were all very inspirational, and full of love and life, and you could feel the energy pulsing in your veins to the sounds of the drums, guitar, and harmonium. We did about 5 chants, and then they played a song for us. It was incredible to sit in a circle and sing with this group. I think this was my highlight of the weekend without a doubt. We spent about 10 mins after talking to the group, and purchasing some of their music. What an inspirational sessions that was.
it always seemed as if there was another meal just around the corner, and true to form, we found ourselves heading to our last dinner. This was a 4 day conf, but we were only going to Friday and Saturday. It was winding down, and I was already starting to see the end in sight. But not until we had dinner. Tonight we had Pizza and Sushi, among other things, but this is what I focused on. The food, as always was amazing, and we sat with two of my wife's friends, and a new person who evidently was trying to find the vegans in Cincinnati. We let her know that she found us. My wife told her about her group, and hopefully we'll see her again.
I'll say I met a lot of people, but i also re-met quite a few. A lot of these folks were people I had met before, but just didn't remember for one reason or another. I feel a little closer to them now, although i'll probably still need help remembering their names.
The night before at the end of the evening we sat and talked with a friend of my wife who was in the middle of the teacher training. It was inspiring listening to him. I talked about the stresses of my job, and the desire to find a little more peace in my life. He was a strong advocate for the teacher training, and despite my wife telling me about this for the last 6 months, this is the first time I really considered it.
Maybe this community is good for me. I'm still an outsider. I'm a vegan in diet only, and every time we went to any yoga sanctioned event I felt like the "spouse" coming along for the ride. This was the first time I felt a real connection, and I loved the experience, and recognized that this could be an avenue to help me find the peace that i am so desperately seeking. I don't see myself really teaching a yoga class, or become an activist, but I do seek enlightenment. I seek knowledge and understanding, and I am tired of telling people that I'm a vegan mainly because I needed to give up fast food, and because my wife did it. Maybe that is why I started, but I do feel I have changed. I feel I have improved as a human, but I want to improve more. More than anything I want to quiet all the noise in my head, and become more loving and compassionate.
I think that sounds like a good goal for the next phase of my vegan journey.
I want to come home.